Steve P… A Master Hypnotist, Metaphysical Counselor, Sex Coach, and Holistic Health Practitioner. Trained in acupressure, therapeutic massage, herbal remedies and other shamanic arts.
With Doubts Resolved… Her Frustration Went…
Went To Full-Body Gratification  [For More FREE…] White Tiger Tantra Videos Click Here>> 
About 

Steve P
Steve P— a dominant ex-biker— discovered how sensual meditations and massage helped women release full-body orgasms.
He noticed when women release (often their first) full-body orgasm, many women also release trapped emotions.
Steve P's Discovery
On his journey, Steve P discovered some very interesting psycho-physiological links. He also noticed how some massage techniques released trapped emotions.
These mind-body connections are often mentioned in the work of the late Dr. Wilhelm Reich.
Dr. Reich referred to these type of Deep Emotional Releases as "Sexual Healing"
For decades, Steve P fine-tuned his skills. He has helped many women awaken their mind, heart, and yoni connection. Women soon notice how this is beyond physical pleasure.
Some women discover blissful emotional, spiritual and sensual awakenings.
Steve P and his work have been featured in numerous books, on radio shows, and at seminars. He is a leading expert on sacred sensuality, yoni massage and improving intimate relationships.
The art of sensual alchemy is to "dissolve" fears. Then, "purify" your purpose with pure agape love. Next, "transform and bind" sexual energy into a sensual awakening.
Like the mystical sensual shamans of the past, the sensual alchemist guides women to their desired changes. He uses the Zen arts of change, BDSM, sacred sensuality and other useful meditations. 
Some women notice how as their raw sexual energy transforms… they sensually awaken… just as many others… [Discover More] Click Here for "HOME" Page>>>
About This Blog

When it comes to information about yoni massage and better orgasms, many women search the internet. Some of what they find might be good. Yet, other information not so much… and some stuff is just useless. However, still, a lot of people discover our blog because of the internet.
This information on this blog is an adult dose of Steve P's sensual wisdom. His opinions are based on years of experience helping women sensually awaken.
At first, many women just want better orgasms. Some women are convinced they can't have any kind of orgasms.
After their physical desires are met, many women often want connections with much deeper emotional bonds. Some women want to explore the more spiritual aspects of Sex Magick and Sacred Sensuality. This is a natural progression as a woman's three sensual centers become awakened.
In Sensual Shamanism there's a greeting, "How are your three sensual centers?" If one of these sensual centers are out of balance your life is out of balance.
"Your Three Sensual Centers"
When your centers― the head (mind), heart (emotions), and yoni (physical)― are out of balance, that influences how you feel and respond to people and situations.
Since the time of our ancestors, it's been known, when the Spiritual (right-hand) path, enters into a perfect union with the Physical (left-hand) Eros path, a portal to Sacred Sensuality can open.
Information Into Wisdom
Can you imagine having access to the most powerful skills, knowledge, and meditations that integrate Eros love and spiritual awareness with a balanced state of mind?
This blog shares information that can be shifted into experiences… that often creates a desire for deeper knowledge and sensual wisdom.
Information That's Experienced Becomes Knowledge 
Knowing How To Use Knowledge Is Wisdom
Sensual Wisdom Itself Is Power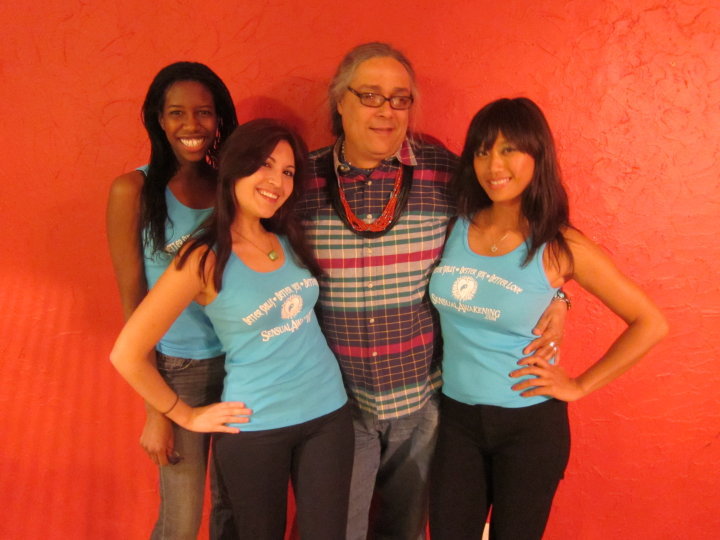 Create A Powerful Life!
Have you ever wanted to awaken deep intimate connections… with yourself and others?
With sensual knowledge, you can awaken dormant pleasure points throughout your lovers entire body.
However, with sensual wisdom, you'll discover how to sustain deep intimate connections with a balanced heart.
When lovers awaken and cycle sensual energy through their three primary sensual centers… both hearts can beat as one.
This blog is about how to use Sacred Sensuality to create deep intimate bonds.  We'll share practical information you can experience and integrate into sensual knowledge and sensual wisdom.
About White Tiger Tantra 
The White Tiger Tantra (WTT) DVDs were released in 2005. Since then, thousands of women, around the world, have used WTT techniques to clear up their limiting beliefs. 
Steve P's WTT meditations have guided women from sexual frustration to physical gratification. As women discover how yoni massage resolves their tension, the mystery of full-body orgasms, with its sustained calming afterglow, melts all doubts away. 
Yoni massage and female ejaculation date back to before it was recorded in the Kama Sutra. These were just a couple of methods known to provide a sense of mental and physical well-being as they sexually awakened, then spiritually awakened women.
"You never change things by fighting the existing reality. To change something, build a new model that makes the existing model obsolete."

―Buckminster Fuller
White Tiger Tantra provides a model of sensual awakening for women to surrender to the feminine (aspects of Eros) energy. When this is combined in a perfect union with the masculine (spiritual warrior) energy it opens the balanced path to sacred sensuality.
Some women come to White Tiger Tantra to just resolve sexual frustration…
However, many women soon discover how practicing the meditations helps them live a more sensually fulfilled life.
The more women practice the WTT meditations, the more they will strengthen their mind-body connection to release ego-free full-body orgasms.
In White Tiger Tantra we start with physically and sensually awakening the body, then the mind and then the heart.
This is to clear out the fear-based emotions (like doubt and frustration) that inhibit a balanced sensual experience.
The sensual meditations also help women enhance deep intimate bonds… with themselves and others.
As a master hypnotist and sex coach Steve P— along with support from his coaches and his products— has helped thousands of women around the world sensually awaken.
If you ever want to release full-body ecstasy— like a Tantric Master from the far East— then this Blog will be the most important sensual resource you will ever read and share with other women.