Discover Sensual Secrets To Awaken A Deeper Levels Of Connnection
About 

Steve P:

     

Steve P… is a Master Hypnotist, Metaphysical Counselor, Sex Coach, and Holistic Health Practitioner. Trained in acupressure, therapeutic massage, herbal remedies, and other shamanic arts. 
When Steve P introduced White Tiger Tantra, he helped women awaken their—three sensual centers— mind, heart, and yoni connection. Women became sensually grounded and live a much more balanced life… But first, let's start at the beginning.
Steve P's Discovery

When sexually frustrated women come to Steve P—and his coaches— for help they just want better sex with their partner. 
Women Want To Be Physically Satisfied.
However, when physical desires are met, women want to transform sexual energy into deeper sensual connections.
However, Steve also noticed how certain massage techniques released trapped emotions. 
These mind-body connections are mentioned in the work of the late Dr. Wilhelm Reich.
Dr. Reich believed that Deep Emotional Releases created "Sexual Healing"
Dr. Reich was convinced that when women transform and cycle their raw sexual energy into "ego-free" full-body orgasms they could transcend psychological and physical illnesses.
Recent "Vagal Tone" studies support the notion that—beyond just physical pleasure— when the mind, heart, and yoni are satisfied, then women live healthier lives.
Steve P and his work have been featured in numerous books, on radio shows, and at seminars. He is a leading expert on sacred sensuality, yoni massage and improving intimate relationships.
"Explore Your Three Sensual Centers"
When one of your centers― the head (mind), heart (emotions), or yoni (physical)― are out of balance, it will influence how you respond to others.
An Interview With Steve P.
*Note from Steve P: This interview is used and distributed with permission from Cliff at www.CliffsList.com (A dating website with tips for guys.) I have made some edits to the original article.
SPIDEY'S INTERVIEW WITH STEVE P: THE SECRETS OF AN EXTENDED FULL BODY ORGASM.
Think Of Me As A Vagina Mechanic
So the following article is a very special treat. It is an exclusive interview with one of the most influential people in the world of dating, as well as a connoisseur with unmatched knowledge about the female body. Before we get into this, perhaps a little introduction to his work would be appropriate.
Who is Steve P?
Well, if you read the book that many consider the "Bible" of the seduction community, "The Game: Penetrating the Secret Society of Pick-Up Artists" by Neil Strauss (http://www.cliffslist.com/link/dJ), Steve P is described as one of the most powerful hypnotists in the world. Many have read the book and had a hard time determining if Steve is really an existing person, or just a fictional, supreme being; amongst men who are considered masters, he is a master.
If you consult his students, they will tell you that Steve is a master of tantra, who can help any woman achieve the most mind-blowing climaxes imaginable. If you ask his friends, they will tell you that he is one of the most knowledgeable men with a heart of gold. And if you ask a random stranger who saw him walking on the street … well … I'm not sure what they would tell you! As a hypnotist, a seducer AND a close friend of Steve's, I can tell you that ALL of these statements are in fact correct.
Steve is, simply stated, the most amazing man you will ever meet. With a sharp wit, a unique style, and enough knowledge to fill up a library, he has made his way to the top of the list of most famous individuals within the "pick-up" community. He now lives in California with his two sons, where he practices hypnotherapy, sex therapy, and is often seen speaking for the dating community.
Today we're talking about one of Steve's life long passions. At a young age, he found himself fascinated by the female body. His Master's thesis, which led him to get his degree in community psychology at Springfield University, was entitled "Mitigating Stress in Female College Students Using Hypnotically Induced Orgasms." Yes!
He was indeed fascinated by helping women achieve powerful orgasms. He had started working on a hands-on method, but the school would not allow him to write about it. Throughout the years, he pursued his studies and developed what is now known as "White Tiger Tantra (WTT) awakening and releasing powerful female orgasms."
What is the White Tiger Tantra (WTT)?
To sum up, this is a technique developed entirely by Steve. It begins with a full body massage that he calls "sensual enhancement," which is used to awaken muscles that produce hormones and to get the blood flowing into the erogenous zones. This is not necessarily a pleasant massage; it is a deep tissue massage mixed with shiatsu techniques in order to awaken the female body.
The second part of the method consists of the part called the "awakening." This is the part where the man (or Steve) enters the vagina with his fingers. With this method, Steve teaches men how to help their partners achieve "extended, full body orgasms" as opposed to orgasms that are just in the genitals. These orgasms, which ANY WOMAN can experience, often lead to projecting vaginal liquid, an action that is referred to as "squirting." These techniques do not deal at all with hypnosis, and you don't need any hypnosis experience or knowledge to learn this. Anyone can learn it.
I had the distinct honor of interviewing Steve about this method and his thoughts on what it accomplishes for your reading pleasure. I beg of you, if you find yourself chuckling at words like vagina, orgasm, or squirting, you might want to read this at a time where you can take it more seriously. Also, if you are not comfortable reading about extremely sexual material, then this interview might not be for you…
SPIDEY: So I'm here in Montreal with the famous Steve Piccus, to talk about White Tiger Tantra and "extended full body orgasms." The first question that I KNOW is on a lot of readers' minds is: "Can every woman ejaculate? And if so, what do you think of women who claim they cannot?"
STEVE: Well, those women haven't met me yet! (Laughs a little.) Or they have met me and haven't paid me (laughs even more.) Look, it's quite simple. A lot of women just don't understand the equipment they've been given. They have a high-performance vehicle right between their legs, but they don't know how to use it to its maximum potential. If there's a problem with your car, you don't sit there and complain that it won't work. You take it to a mechanic.
So just think of me as a vagina mechanic…
I usually deal with clients over the age of 25. I will NEVER work with anyone under the age of 18. But a lot of people misinterpret what the purpose of White Tiger Tantra is. There are a lot of mental/physical benefits for a woman that can release sustained full body orgasms.
SPIDEY: So is this pleasurable for you? In other words, do you feel a sexual bond with the women you work with? I mean, they are naked, on your table and you are pleasing them immensely. How does the service provider/client dynamic work here?
STEVE: Well a lot of guys come up to me and say, "Man, you came up with a way to stick your fingers in women AND get them to pay you… Wow!!" So I asked a young woman who recently did a session with me what she felt during the sensual enhancement massage and she said, "I wanted to rip your eyes out!"
The assumptions people have about WTT are wrong. The REASON I have women pay me is that this is hard work! I'm not having fun doing this stuff. When I get clients who come in with their husbands or their boyfriends, I get them to reconnect with their partners and share an intimate bond. It's not all about playing with the p***y.
Often, when women look at me and say, "That feels amazing!" and I will tell them, "Don't tell me, look at your husband and talk to him, he's the one paying to learn this stuff for you." (Note from Spidey: when Steve talks about this stuff, you can genuinely feel that there is nothing sexual going on for him, that this is a real science to him, like a gynecologist.)
SPIDEY: We're dealing here with "extended full body orgasms." What is the difference between that and a regular orgasm?
STEVE: A lot of women think that there is a difference between a clitoral orgasm and a vaginal orgasm. The problem with that notion is that most people misidentify the clitoris. A lot of people think that the clitoris is that little button at the top of the vagina that protrudes. Truth is, that is just the tip of the iceberg. The clit actually extends down into the vagina. The urethra sponge has fibers of the clitoris running through it, so with this method, we're essentially stimulating the pleasure nerves. There are approximately 5,000 to 8,000 nerve fibers in the vagina, and approximately 15,000 to 18.000 more in the hip/ pelvic/ pubic region.
(Note from Steve P: more than 65 percent of these nerve fibers end in the pudendum (vulva) the external female genital organs.)
When we use the Swedish deep tissue massage techniques mixed with the shiatsu techniques, followed by the sensual enhancement and the awakening, we are stimulating those nerve endings. Due to the techniques we teach, the orgasm is not confined solely in the genitals. It expands through the entire body; women can feel it in their hearts and in their minds. Women often remark that the experience is the most euphoric sensation they have ever felt.
This happens because full body orgasms come from stimulating pleasure points that trigger the parasympathetic nervous system, which releases a neurological pleasure cocktail that cascades through her entire body… more about this later.
The genital (only) orgasm comes from (the sympathetic nervous system) fear-based emotions; it feels more like it's a duty or has to be hurried.
If a woman feels like she HAS to release an orgasm (or have sex for any goal) the orgasm comes from the sympathetic system, and it inhibits the serotonin uptake receptors and limits the release of pleasure hormones like dopamine, serotonin, and oxytocin.
The same is true with vibrator-induced orgasms that— although they are quick and easy, also— bypass the awesome benefits that happen in the plateau stage of orgasm.
SPIDEY: You talk about a lot of areas that nobody really knows much about in the DVDs. What about the G-spot or the A-spots… do we care about those?
STEVE: All of those "Spot" areas are all named after the sex researchers who "discovered" them. They are in easy-to-locate areas; however, remember the "Spots" are just fancy labels for areas where there are bundles of nerve fibers.
Like I said, there are over 5,000 nerves inside the vagina, and they are all very important. The G-spot is named after Ernst Grafenberg. The medical term for this area is the "urethral sponge." It is very important, but the pleasure felt varies from woman to woman.
For example, some women feel more pleasure when the anterior fornix is stimulated, whereas others prefer the posterior fornix massaged. It's always important to communicate during sexual activity. Since nerve fibers flow uniquely in every woman, they will all respond to different types of stimulation. It's not just about finding the spots. It's about finding the right ones on the woman you are with and massage them.
SPIDEY: So how does a full body orgasm feel?
STEVE: Exactly like a genital orgasm, but it spreads throughout the woman's entire body. Men tend to climax for about 10-20 seconds. It's kind of like that, but a lot longer.
SPIDEY: How long?
STEVE: Depends on the woman, sometimes up to 30 or 40 straight minutes. In my books "The Sensual Shaman's Diaries" the primary woman experienced a sustained 48-minute orgasm. (Notice he said, minutes… not seconds!) However, women will usually have a series of smaller orgasms before their big release.
SPIDEY: And then what?
STEVE: Well, I keep working it until they release, gush or ejaculate.
SPIDEY: Do all women ejaculate?
STEVE: All women ejaculate, but not all women squirt. It's kind of like men. Some men ejaculate and it falls on their foot; others can shoot across the room. It just depends on the woman. Some of them just gush, but there is always a release of liquid. It depends on the shape or the diameter of the urethra.
SPIDEY: Okay, so what is being ejaculated? What does the liquid consist of?
STEVE: Actually, the liquid is similar to what men release, minus the sperm. Sperm comes from the testicles, but setting that aside, the liquid being released by women is the same as men. Women actually have (Skene's glands) female prostate, which is where the liquid comes from. The Skene's glands produce the same hormones as the male prostate.)
Women often feel a sensation of having to urinate right before they ejaculate. It feels almost the same, and so they confuse it. Often, women often stop before they release because of this sensation. The problem with that is when later on they have sexual intercourse, or fingers are inserted into their vagina, it can push the liquid back into the bladder and cause a bladder infection. But that's a question women should consult with their gynecologist about.
SPIDEY: Great! So, we have the massage, we have the awakening, we have the ejaculation… now what?
STEVE: Often women experience what we call a "Teargasm."
SPIDEY: What is a teargasm?
STEVE: Wilhelm Reich was a psychiatrist who said, "Issues are trapped in the tissues." He was referring to muscle memory. The muscles can store negative emotions. When the women experience such a powerful full body release, certain emotions surface and they begin to cry. Often they know why, but a lot of times, they don't know why they are crying.
See, the genital orgasms are trapped in the pubic area and they come from fear-based emotions. If you are neurotic, you cannot have a full body orgasm, and if you can have a full body orgasm you are not neurotic. A full body orgasm releases a lot of chemicals. Often when the woman is sharing a caring experience, she releases built up negative emotions.
SPIDEY: And so how do you deal with a teargasm?
STEVE: A lot of guys try to figure out what's wrong. Thing is, often, even when the woman doesn't know. All you have to do is offer the woman some comfort. Just say, "I don't care what's going on, but I am honored that you trust me, and I am holding this time and this space for you."
SPIDEY: How about using sex toys to climax?
STEVE: Well, if the woman wants to use a dildo, that's fine, but I don't encourage vibrators. Some of those things go so fast that it just numbs the nerve endings, so when the woman is having sex with a man, she can't feel a thing. She's sitting there thinking, "C'mon and get done, I'd have more fun watching the nail polish dry!" Also, as I mentioned before vibrators bypass the benefits of the orgasm plateau stage.
SPIDEY: Now you also talk to men about dating. Would you advise a guy to use your work to get a woman into bed?
STEVE: Look! I'm not a pick-up artist. There are all these guys who used to give me the PUA (pick up artist) title, and then they changed it to mPUA (master pick up artist.) What's next, DOCTOR PUA? These guys are ranking themselves, and then creating new ranks when people start catching up to them. My work is all about sacred sensuality.
If you're going up to a woman and getting her into bed using a bag of lies, what are you supposed to do 4 months into the relationship? Tell her, "Everything I said to you for the first 3 months was a lie?"
It's important to be true to yourself, and to be honest with those around you. So, as long as men understand that this stuff creates really strong connections, it's fine!
SPIDEY: As a man, if I recently learned this stuff and I wanted to introduce it into my relationship, how would you recommend I go about doing so?
STEVE: Just do it! Don't lie about it. Show your girlfriend the videos and tell her that this is something you want to share with her. If you try to hide it and go about it differently, she will think you've been cheating on her.
Think about it like this. It's like if a man goes on a trip for a week, and before he leaves, during oral sex; his wife can barely get the tip of the dick into her mouth without gagging. Then he gets back and she's taking him down all the way Balls Deep. He's going to be thinking, "Damn, I wish I could marry this woman! Wait a second; I AM MARRIED TO THIS WOMAN! What the hell have you been doing while I was gone?"
You're learning this FOR HER (and for you) to enhance your relationship so just introduce it candidly.
SPIDEY: What are some of the advantages of releasing Full Body Orgasms, other than the obvious, pleasure-related advantages for the woman?
STEVE: A happy wife is a happy life. This is also a very effective method for stress release. Hysteria is a condition that a lot of women have which is a stress-related illness. During the Second World War, when the soldiers were away, doctors actually would masturbate their female patients for stress relief.
Also, there are high levels of endorphins (natural pain-relieving hormones, related to pleasure) and other chemicals released into the body. Another thing is that after experiencing a release like this, mundane thoughts can no longer affect you.
For example, if you've been having sex with nobody but yourself for quite some time and you cross a random guy on the street that says, "Wow! You would wear that shirt with those pants?" You would want to punch him right out! But if you just had a wonderful sexual interaction, you wouldn't give a f*** what he thinks. You'll just smile and say, "Hell yeah I would!"
The benefits for a woman to release sustained full body orgasms are many, including the deeper bonds with their partner, releasing a euphoric pleasure cocktail that counteracts stress and provides a sensual afterglow (that can last for days)… etc.
SPIDEY: Great, so do you have any final words for our female readers?
STEVE: Find a good partner and invest time cultivating a relationship full of pure love rather than just having good sex. Build an intimate connection that is heart to heart and soul-to-soul. This will open deeper levels of satisfaction.
If you're interested here's a woman describing her first WTT experience, just CLICK This Link… https://www.youtube.com/watch?v=3wlIqL9BFZ8
About This Blog: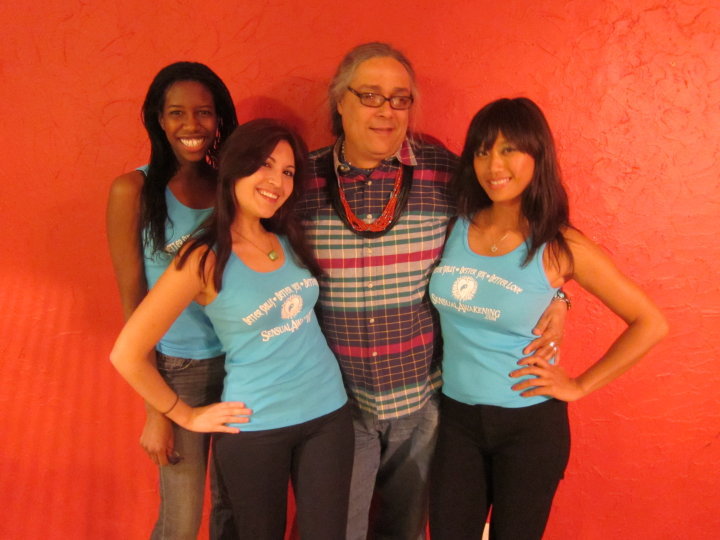 Have you ever wanted to awaken deep intimate connections… with yourself and others?
With sensual knowledge, you can awaken dormant pleasure points throughout your lovers entire body.
However, with sensual wisdom, you'll discover how to sustain deep intimate connections with a balanced heart.
When lovers awaken and cycle sensual energy through their three primary sensual centers… both lover's hearts beat as one.
This blog is about how to use Sacred Sensuality to create deep intimate bonds.  We'll share practical information you can experience and integrate into sensual knowledge and sensual wisdom.
About White Tiger Tantra: 
"You never change things by fighting the existing reality. To change something, build a new model that makes the existing model obsolete."

―Buckminster Fuller
The White Tiger Tantra (WTT) home-study Yoni Massage Course DVDs were released in 2005. Since then, thousands of women, around the world, have used WTT techniques to improve their sensual life. 
Steve P's WTT meditations have guided women from sexual frustration to physical gratification. As women discover how yoni massage resolves their tension, the mystery of full-body orgasms, with its sustained calming afterglow, melts away all doubts. 
Yoni massage and female ejaculation date back to before the Kama Sutra. These methods provide a sense of mental and physical well-being. The meditations first sexually awakened, then sensually awaken and then spiritually awakened women.
"You never change things by fighting the existing reality. To change something, build a new model that makes the existing model obsolete."

―Buckminster Fuller
White Tiger Tantra provides a model of sensual awakening a woman's feminine (aspects of Eros) energy. When this is combined in a perfect union with the masculine (spiritual warrior) energy it opens the balanced path to sacred sensuality.
Some women come to White Tiger Tantra to just resolve sexual frustration…
However, when women discover how the meditations help them sensually awaken, then they can enjoy a more sensually fulfilled life.
The more women practice the WTT meditations, the more they will strengthen their mind-body-yoni connection to release ego-free full-body orgasms.
If you ever want to release full-body ecstasy— like a Tantric Master from the far East— then this Blog will be the most important sensual resource you will ever read and share with other women.